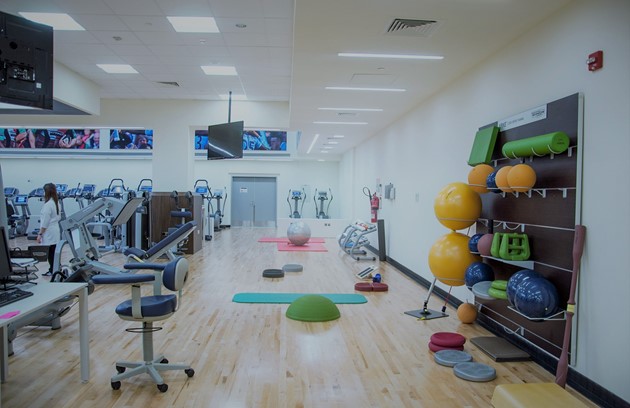 The Physiotherapy and Rehabilitation Department is committed to providing the finest possible options for the assessment, treatment and multi-disciplinary team management of patient care. The department offers a broad range of advanced therapeutic options subspecializing in the field of musculoskeletal physiotherapy and sports injuries, covering both conservative and pre-operative/post-operative cases.
Overview
Following orthopedic post-operative surgeries, the aim of our well qualified team of physiotherapists is to restore the activities of daily life through rehabilitation that focuses on the improvement of mobility, muscle strength, range of movement, balance and to promote the adoption of healthy lifestyle changes.
Our expert team brings the best from the field of musculoskeletal physiotherapy to the UAE. Our treatment combines evidence-based principles and a strong commitment to developing concise, individualized programs for every patient.
Sports physiotherapy is built on the theory that sports rehabilitation, fitness and cardiovascular conditioning must go hand-in-hand in order to return individuals to their pre-injury status.. We also provide sports specific rehabilitation for sports-related injuries to rehabilitate athletes quickly and prevent re-injuries through education and training.
Our treatment plans are designed for everyone. We work with patients of all fitness levels to manage both injuries and chronic conditions to increase movement, mobility and relieve pain.
What makes us different?
The devices that we use provide the most advanced and safe active ingredients available for functional restoration therapies. The key design objectives for the selection criteria is based on physiological design, evidence based (clinical efficacy), usability and safety.
Equipment:
Hydrotherapy (Fluid Cycle: Aerobic Workout for both upper and lower limbs)
Latest Version of Kinesis One for functional rehabilitation / therapeutic exercises
State-of-the-art gymnasium with a wide range of equipment for active restoration of function and for better living
The Biodex System 4: for return to sports assessments and functional rehabilitation
Blood Flow restriction
Alter-G Anti-gravity treadmill
Instrument-assisted soft tissue mobilization tools
Sensopro Balance cage
Biodex Static and Dynamic balance system
Running and Gait training and retraining analysis
Ergonomics and posture assessment
Centaur- biofeedback motor control
Services
Electrotherapy
Focused and Radial Shock Wave Therapy
Functional Electrical Muscle Stimulation
Interferential Current Therapy
Low Intensity Laser Therapy
Transcutaneous Electrical Nerve Stimulation
Ultrasound Therapy
Orthopedic - Physiotherapy
The ortho unit cater all Phase 1:Early Post-injury, Pre and Post-Operative Phase and Phase 2: Early Functional strengthening phase for the following procedures:
Arthroscopic surgery
Knee ligament reconstruction
Osteotomy of the knee
Meniscal transplantation
Cartilage preservation procedures
Unicompartmental knee replacement
Patellofemoral replacement surgery
Total knee / hip replacement
Instability procedures
Rotator cuff surgery
Total shoulder replacement
Fractures
Foot and Ankle Surgery
Common conditions treated by Ortho Physiotherapist:
Osteoarthritis of the Knee, Hip etc. 
Bursitis (e.g. – Hip Bursitis)
Elbow Pain and Problems
Cubital Tunnel Syndrome
Lateral Epicondylitis (Tennis Elbow)
Medial Epicondylitis (Golfer's or Baseball Elbow)
Foot Pain and Problems
Fractures
Low Back Pain
Wrist Pain
Carpal Tunnel Syndrome
Knee Pain and Problems, Sports Injuries
Ligament Injuries to the Knee
Torn Meniscus
Shoulder Pain and Problems
Soft-Tissue Injuries
Spine Physiotherapy
Spine Physiotherapist deal with conditions ranging from Degenerative and Deformities of the spine, both surgical and conservative. Below are the common conditions treated by Spine Physiotherapists;
Neck Pain – Mechanical
Neck Pain – Whiplash Associated Disorders
Neck Pain with radiating pain to the arm
Spondylosis of the cervical and lumbar spine
Spondylolisthesis – slipping of vertebrae
Low Back Pain – Mechanical
Low Back Pain with radiating pain to the legs – eg : Sciatica
Thoracic Outlet Syndrome
Osteoporosis – weakening of the spine bones
Scoliosis
Kyphosis
Disc Herniation – neck, mid back and low back region
Fracture of the Spine
Physiotherapy following Epidural Injection, Selective Nerve Root Block Injections
Post-Operative Rehabilitation following Spine Surgeries – like Micro discectomy, Artificial Disc Replacement, Fusion Surgeries, Percutaneous Endoscopic Micro Discectomy, Scoliosis Correction Surgery, Kyphosis Correction Surgery.
Sports Rehabilitation
Sports rehabilitation therapist covers all level of sporting injuries from beginners to elite level. Injuries occurring in the active population are to similar injuries found on the sporting field and are managed in the same way as the sporting population. The unit focuses of Phase 3: rehab running and resumption of functional activities phase, Phase 4: running intensity/integrated activity phase and Phase 5 Return to sport/work phase. In continuation on the rehabilitation journey of the patient for all the musculoskeletal cases listed on the orthopedic and spine physiotherapy unit:
Post-operative musculoskeletal: orthopedic and spine procedures
Ligament sprains and tears
Fractures and Stress fractures
Muscle injuries
Tendinopathies
Cervico-Thoracolumbar pain
Return to Work Assessments, Return to Sports Assessments and Training following injuries
Hand Occupational Therapy
Therapy Includes Management of Traumatic Hand Conditions, as well as Acute and Chronic conditions, which may have been treated surgically or managed conservatively. Below are the common conditions treated by Occupational Therapists;
Carpal Tunnel Syndrome/ Cubital Tunnel Syndrome/ Radial Nerve Injury/ Brachial Plexus Injury
De Quervain's Syndrome/ Trigger Finger & Thumb/ Tennis Elbow
Dupuytren's Disease
Flexor and Extensor Tendon Injuries / Tendon repairs
Ligament Injuries/Volar Plate Injuries
Scar Hypersensitivity
Nerve Injuries/ Nerve repairs
Fractures of the Hand, Wrist and Elbow
Osteoarthritis/Rheumatoid Arthritis (including joint protection techniques and energy conservation)
Joint Arthroplasties
Neurological Hand Problems
Scar Treatment
Pediatric Physiotherapy Rehabilitation
Pediatric Physiotherapy at Healthpoint Hospital Provides services for the prevention of impairments, illnesses, injuries, or conditions that limit their ability to move or function in their daily life.
Post trauma patients; sprains, fractures, with or without surgery.
Patients with flatfeet caused by contracture Achilles
Anterior knee pain (chondromalacia)
Mild cerebral palsy patients with contractures; gastrocnemius, hamstrings
Back pain in pre-teen or teenagers
Fractures, soft tissue or sport injuries
Congenital muscular torticollis
Congenital foot deformities
Developmental foot problem: flat foot, in-toeing gait
Post-orthopedic surgery rehabilitation
Joint and bone deformities management
Patients & Visitors
Insurance Partners

We partner with a number of health insurers to offer healthcare coverage for our patients.

Location & Opening Hours

Conveniently located in Abu Dhabi Zayed Sports City, Healthpoint is easily accessible and can be reached by public transport or car.

Facilities & Services

We are committed to providing five-star service to our patients.

Request Information

Get In Touch with Us