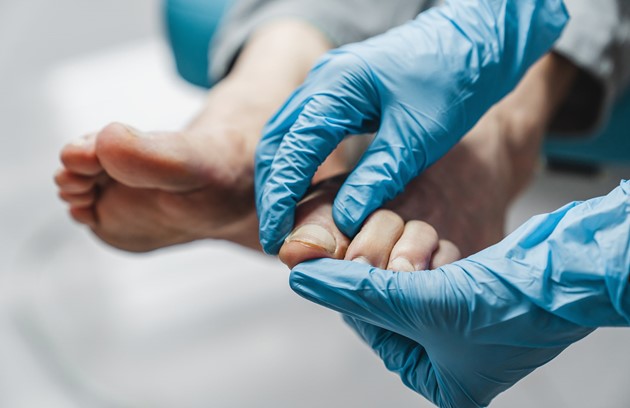 Healthpoint is one of the few healthcare providers in the UAE having a dedicated Podiatry Department. Our experienced podiatrist was trained to prevent, diagnose, treat, and rehabilitate abnormal foot and lower limb conditions. We employ worldwide standards and procedures to assist patients in preventing and correcting deformities, keeping them mobile and active while assuring pain relief and appropriate treatments are provided.
Conditions We Treat Include:
We offer outpatient consultation and assessment services, inpatient and same-day services, including:
Aging feet
Athlete's foot, over sweating (hyperhidrosis)
Blisters
Bunions and metatarsalgia (pain in the ball of the foot)
Corns and calluses
Diabetes related issues
Dry and cracked heels
Flat feet and cavus feet, over pronation and supination
Gout
Heel pain and fasciitis
Medical manicure
Sports injuries
Toenail problems (thickened, fungal, ingrown toenails)
Verrucae
Diagnosis and Common Podiatry Conditions
Flat feet
Bunions
Podiatry
Foot pain
Ingrown toe nail
Sports injury
Fungal nail
Toe pain
Plantar fasciitis
Heal spur
Achilles tendinitis
Toe deformities, Claw toes
Rheumatoid foot
Foot and toes Gangrene
Foot numbness
Claudication
High arch foot
Metatarsalgia
Mortons neuroma
Diabetic foot syndrome (assessment, treatment)
Negative pressure wound therapy (vac-dressing)
General wound care treatment to feet and lower limbs
Rheumatoid foot and arthropathies treatment
Footwear advice
Footwear adaptation
Nail and skin surgery under local anesthesia
Non-healing post-surgical wounds on the foot and lower leg
Venous and peripheral vascular disease ulcers
Traumatic wounds
Leg/foot Burns
Wounds associated with infections
Pressure sores / ulcers on the feet
Unequal leg lengths
Podiatry Treatments and Procedures Available at Healthpoint
Foot and lower leg casting for Acute Charcot / diabetic foot ulcer off-loading
Undertaking ankle brachial and toe pressures to assess the vascular supply to the legs and feet
Nail pathologies requiring surgical removal under local anesthesia
Undertake total/partial nail avulsion with chemical matrixectomy
Prescription of Orthotics, Foot and ankle orthosis, Insoles, Arch supports and medical shoes
Wound debridement
Incision and drainage of diabetic foot abscesses
Causes and Risk Factors
Diabetes
Genetic conditions
What is podiatry?

Podiatry or podiatric medicine is a branch of medicine devoted to the study, diagnosis and treatment of foot disorders.

What cases are covered in podiatry clinic?

Podiatry treats all types of foot and lower limb conditions affecting walking and mobility and cares for people at risk of limb loss due to diseases such as diabetes.

What does a podiatrist do?

Podiatrists are allied health professionals that provide preventative care, diagnosis and treatment of a range of problems affecting the feet, ankles and legs.

Do podiatrists treat children?

Yes, podiatrists treat people of all ages

Reasons to see a podiatrist?

Foot and ankle pain.

Foot deformity such as bunions, toe deformities.

Numbness in the feet and lower legs.

Discoloured feet, poor circulation to the feet and toes.

Problems with walking (gait).

Diabetes, peripheral arterial disease or rheumatoid arthritis – to ensure your feet stay healthy and safe.

Corns and calluses causing pain.

Toenail deformities and ingrown toenails.
Patients & Visitors
Insurance Partners

We partner with a number of health insurers to offer healthcare coverage for our patients.

Location & Opening Hours

Conveniently located in Abu Dhabi Zayed Sports City, Healthpoint is easily accessible and can be reached by public transport or car.

Facilities & Services

We are committed to providing five-star service to our patients.

Request Information

Get In Touch with Us